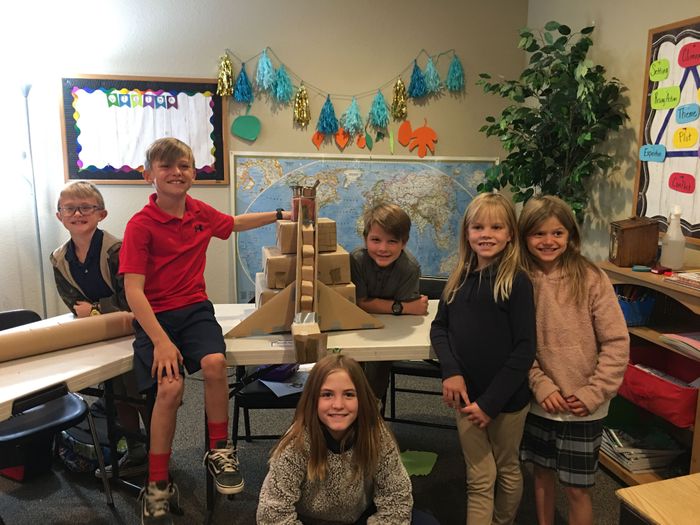 Kinder - 5th Grade: Full Time
Our academic focus is a combination of the Charlotte Mason approach to learning which helps children develop a true love for learning, emphasizes movement and engagement in the Classroom, and gives children a "feast" of ideas to expand and enrich their approach to life and understanding of virtue. We also embrace the Classical approach which emphasizes children's amazing ability to memorize and absorb content through songs and chants when young, and then learn to engage material logically and articulate content eloquently as they mature.
Our spiritual focus is to help our students learn to listen and hear from Jesus from His word during Chapel Time, and then spiritually inspire one another through shared prayer, memorizing scripture together, and sharing their insights about God with one another.

Mon - Thus
Class is held Monday through Thursday where electives are optional add-ons.

Fridays off
Fridays are a time for families to work together from home to enrich the education.

Academic
Our education is a combination of Charlotte Mason and Classical instruction.

Spiritual
Everyday starts with chapel. This is a time to connect with God and prepare for our day.
Thrive Spiritualy & Academically
SHA provides a beautiful spiritual and academically aggressive environment, immersing your children in an environment of prayer and healthy relationships, inspiring their minds with amazing literature, learning, and emphasizing creativity, movement, and virtue training!
Our mission is to "assist parents in forming world-class disciples of Jesus," as well as challenge them to excellence in a creative and academically aggressive environment, where love for learning and true Christian fellowship can thrive! Our teachers are all spiritually mature, academically gifted, and very creative making learning fun, engaging and interactive!
We also offer many optional Specials/Electives such as Spanish Immersion, Music, Art, Gymnastics, Dance, Ninja Warrior Class, Technology, Salvation History & More!